Downloads
If you are on this page, it means that you have registered to download Card Creatr Studio. You must register before downloading the software.
All downloads are around 80 MB.
The software is getting better, but please keep in mind that there are still some rough edges. Report bugs you find on the feedback site linked in the header bar above.
Demo Video
While you are waiting for your download to finish (scroll down for the download link), watch the following 2-minute tutorial:
Latest version: 1.3.1
Version 1.3.1 (June 16, 2018)
Changes: Fixed bug i30, PDF export fails on very large files.
Version 1.3.0 (June 3, 2018)
Changes: Implemented feature i9, drop-down menu fields; implemented feature i21, ability to check for updates via Help → Check for Updates; implemented feature i26, rearrange cards; added SVG viewer in View → View SVG XML to help when writing templates; added new field property "number" to fix sorting.
Version 1.2.1 (April 15, 2018)
Changes: Fixed bug where color picker did not save colors; added new built-in functions +imageFit and +imageStretch as alternatives to the pre-existing function +imageFill.
Version 1.2.0 (March 25, 2018)
Changes: Implemented feature i19, "Export individual files"; fixed bug i20, "Allow for exporting to pages larger than 8.5 x 11"; added grid feature accessible via View → Show/Hide Grid; other minor bug fixes and improvements.
Version 1.1.1 (October 30, 2017)
Changes: Fixed bug i16, "Data loss with numbers in string fields."
Version 1.1.0 (August 20, 2017)
Changes: Overhauled "Export to PDF". Added option to print multiple copies of a card per page.
Version 1.0.1 (April 11, 2017)
NOTE: In versions 1.0.1 and earlier, in order to export your cards to PDF for printing, you need Firefox installed on your computer.
Changes: Code-signed Windows installer and executable. Added more descriptive exception to "Export to PDF".
Version 1.0.0 (March 26, 2017)
Initial version
Windows Installation
On Windows, you may get an error box such as the following:

If you see this error box, click the "More info" text link:

Verify that the publisher is the same as shown here (my name, "Shane F. Carr," along with my home address in Missouri). If everything looks good, click "Run anyway." This step will be necessary until the app gets submitted to the Windows App Store.
After this, you will probably see another error box that says: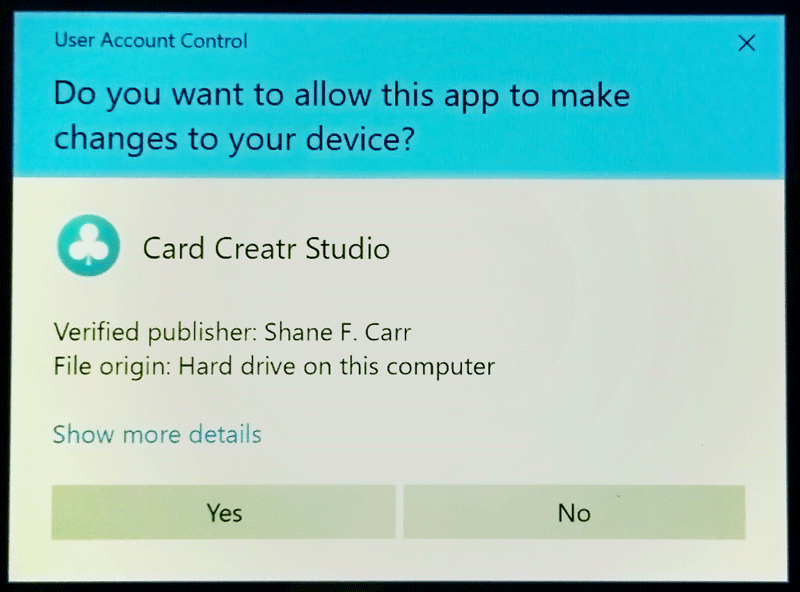 Click "Yes" to continue. The program will be installed in your Program Files folder. In addition, mappings for the file type "ccsb" will be added to your Windows registry, which is why administrator priviliges are required.